Determining you have hearing loss is only half the battle. Once you have a diagnosis, your audiologist will work with you to put together a unique treatment plan. For most, this will include the use of hearing aids.
Below is a breakdown of what these devices are and how to choose the best one for you.
What Is a Hearing Aid?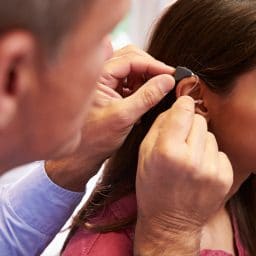 A hearing aid is an electronic device that amplifies sound vibrations entering the ear to help improve speech and hearing comprehension. While hearing aids come in a number of styles, they all have the same basic components, including:
Microphone that picks up sounds
Amplifier that makes sounds louder
Receiver that delivers the amplified sounds into the ear canal
Batteries that power the device
While the device itself is complicated, the process is simple. A sound is picked up by the microphone, which converts it into an electric signal. The power of that signal is increased by the amplifier and delivered to the ear by the receiver. The device is then powered by some type of battery.
Types of Hearing Aids
There are four main types of hearing aids.
Behind-the-Ear (BTE)
The components of this style of hearing aid are housed in a compartment that sits behind the ear with a clear tube connecting the earmold, which sits in the canal. This style works with a wide range of hearing losses, from mild to profound.
In-the-Canal (ITC)
Unlike the BTE, which houses all the components behind the ear, this model puts them inside the canal. This style of hearing aid is less noticeable because of its size, but that also makes it harder to use. The ITC can work for those with moderate to severe hearing loss.
The completely-in-the-canal (CIC) version of this style is even smaller, as it sits deeper inside the canal.
In-the-Ear (ITE)
Slightly larger than the ITC model, the ITE style of hearing aid fits the components in a shell that fills the outer portion of the ear. This model can work for those with mild to severe hearing loss.
Receiver-in-Canal (RIC)
Like the name suggests, this popular model of hearing aid places the receiver inside of the ear canal. The two sections of this device are connected with a thin wire that is practically invisible.
RIC hearing aids are appropriate for those with mild to moderate hearing loss.
Next Steps
Your audiologist will work with you to determine what style of hearing aid is best for your needs. They will discuss your listening lifestyle as well as how you spend most of your time. Those who are often trying to have conversations in areas with a lot of background noise, such as the Washington Square will require more technology than someone who often finds themselves in quieter environments.
To learn more about choosing a hearing aid or to schedule an appointment with an expert, contact Oregon Ear, Nose & Throat Center today.
Learn More About Hearing Aids