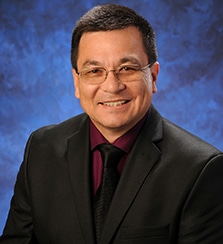 Philosophy of patient care:
"I enjoy working with my patients and helping them understand their hearing needs, and helping them accomplish their goals related to improved hearing."
Licensure: Hearing Instrument Specialist, Advisory Council on Hearing Aids
Professional and Service Organizations:
Bobby has worked in healthcare serving the public since 1984, working first at Living Opportunities as a Program Manager, then at Rogue Valley Dialysis Services as a Certified Dialysis Technician, and now has been at Oregon Ear Nose and Throat Center for 12 years.

Personal:
Robert Lee, known as "Bobby" to family, friends, and patients, joined OENT in 2002. He has lived in the Rogue Valley since 1972. Bobby and his wife Sandy have three great children, two in their 20's and one in high school.
Bobby enjoys fishing, especially fly fishing, and coaching kids in a variety of sports and levels. He and his family enjoy attending church at Table Rock Fellowship.