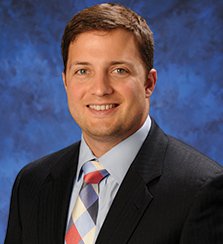 Philosophy of Patient Care:
"I am fortunate to practice a specialty treating patients of all ages with a wide range of conditions affecting the ears, nose and throat. I seek to empower my patients to choose the best possible treatment option for their unique goals and needs. Effectively communicating the nature of your diagnosis is the first and most important step in achieving optimal results, whether medical or surgical treatment is pursued."
Education/Training:
University of Iowa Hospitals and Clinics – Otolaryngology – Head and Neck Surgery
Medical University of South Carolina – Doctor of Medicine
West Virginia University – Graduate Studies in Microbiology and Immunology
Princeton University, Princeton, NJ – A.B. Ecology and Evolutionary Biology

Board Certified, American Board of Otolaryngology
Experience:

CORE Study Section Resident Reviewer: Otology Sub-Committee
University of Iowa Hospitals and Clinics: Research Fellowship with Dr. Marlan Hansen
West Virginia University: Research fellowship in Microbiology, Immunology, Dr. Daniel Flynn, Ph.D.
West Virginia University: Wrestling Team Captain, NCAAA Division I
Princeton University: Wrestling Team Captain, NCAAA Division I
Emory University, Atlanta, GA: Research assistant, Winship Cancer Institute, Dr. Leland Chung

Personal:

Dr. Clarke was born in Ohio and grew up in Atlanta, Georgia before attending college in New Jersey. He moved from Iowa City, Iowa to join Oregon ENT and is thrilled to be in southern Oregon. He enjoys traveling, spending time outdoors and is an avid kitesurfer.